One of the things I care most about is making history real, tangible and palpable for future generations to connect to. It is, in fact, the very thing that enables the stories of our past to meaningfully shape our present and future. That's why I think these new historic African American trails being planned all across the country are phenomenal! In Galveston, Texas (my home state), former schoolteacher Naomi Carrier is working to see her dream of an Emancipation National Historic Trail realized. The trail would start in Galveston and run 51 miles north to Houston. This is the path that people newly freed from slavery took after they heard they were free in June of 1865. We now celebrate this joyous occasion as Juneteenth.
Historic African American Trails are popping up all over the US
Texas isn't the only state planning on new trails. In New Jersey, state legislator Antwan McClellan was the lead sponsor of a bill recently signed into law by NJ Gov. Phil Murphy to create the New Jersey Black Heritage Trail. The trail would begin at the Harriet Tubman Museum in Cape May (where she lived during the 1850s). There's also a trail on water: The African American Heritage Water Trail on The Little Calumet River. Running through the South Side of Chicago, the water trail would give the public access to 180 years of African American history. There's even a trail for famed author Zora Neale Hurston in Fort Pierce, Florida. The Zora Neale Hurston Dust Tracks Heritage Trail is a small trail right now, but plans are in place to add on a museum and humanities center in her honor.
The trails are on land, water and virtual space
In addition to trails on land and water, there are virtual trails as well – helping people to explore history without having to take up an inordinate amount of time walking miles upon miles of land. There are so many other trails in existence, being planned, expanded and more. Learn about these African American heritage trails via this USA Today article: "Trails into the past: The pathways of African American history stretch across the US" by Ricardo Kaulessar (8 Feb 2023).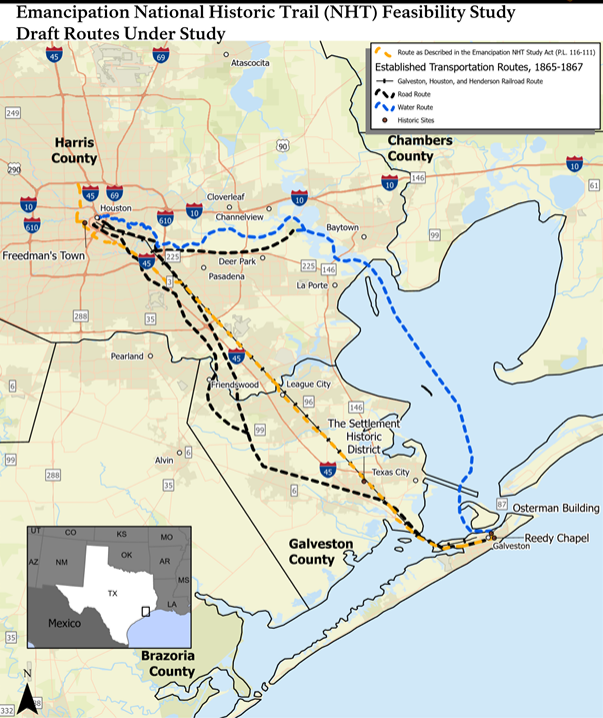 ABOUT MONICA: Monica Rhodes is an internationally acclaimed historic and culture preservationist. Throughout her career, she has helped raise and manage over $150 million, directed preservation activities in 46 states, and completed projects in over 100 national parks. Rhodes developed the first national program centered on diversifying the preservation trades and the heritage industry. She also led efforts to reinstitute substantial programs in the nation to preserve national parks that tell stories related to African American, LatinX, and Women's history. She is a Harvard Loeb Fellow and Rome Prize Winner.