Earlier this summer I was honored to interview fellow historic preservationist Dr. Joy G. Kinard. Listen as she shared why @tuskegeeuniversity and #BookerTWashington personally mean so much to her.
🎥 Catch the full, fascinating episode on my YouTube Channel:
ABOUT MY GUEST:
Kinard's 20-year plus @nationalparkservice career reflects an abiding interest in the preservation and advancement of stories pertinent to African-American and American heritage. She's held multiple leadership roles, including her current 4-year tenure as the first superintendent of @charlesyoungnps; a term as National Capital Parks-East central district manager, where she managed sites like the Mary McLeod Bethune Council House National Historic Site | @bethunenhs, National Archives for Black Women's History and Carter G. Woodson Home National Historic Site. Kinard also served as acting chief of interpretation, education and cultural resource manager at the Martin Luther King, Jr., National Historic Site | @martinlutherkingjrnps, Oxon Hill Farm, Fort Washington Park and Wolf Trap National Park for the Performing Arts. She also served as a park ranger at various sites in Virginia and Maryland, educating visitors on the stories of prominent figures in American history, including George Washington, Frederick Douglass and Robert E. Lee.
A scholar of African-American history and culture, Kinard taught African American History, U.S. History to 1877 and other courses as an adjunct professor for seven years with the University of the District of Columbia's Department of History | @universityofdc and was lead curator on the Delta Sigma Theta Sorority, Inc. | @dstinc1913 Celebrating a Century of Sisterhood, Scholarship & Service commemorative exhibition.

Summary
🎥 "3 & A Possible" is a new video series hosted by Monica Rose, exploring cultural preservation with experts in the field. In this episode, she interviews Dr. Joy G. Kinard, superintendent at multiple national historic sites.
Highlights
– 🎙️ Dr. Kinard shares how her upbringing in Washington D.C., surrounded by the civil rights movement, influenced her interest in preservation.
– 🏛️ She discusses her passion for preserving African-American history and the important roles she has held as a superintendent at various historic sites.
– 🤝 Dr. Kinard emphasizes the significance of building both internal and external partnerships in the preservation field.
– 🌍 She speaks about the impact of these partnerships in her work, including collaborations with organizations like the National Council of Negro Women and the Omega Psi Phi Fraternity.
– 📚 Dr. Kinard's experiences have allowed her to contribute to the preservation of African-American history and to inspire others through her leadership and initiatives.
3 & A Possible Live Chat with Dr. Joy G. Kinard – YouTube
Transcript:
(00:00) okay we're live greetings everyone I'm Monica Rose and it gives me great pleasure to introduce my new video series three in the possible as we know histories are often multi-layered and the name of this show is no exception so if you're a Spades player then you know this is the phrase you would say when you are predicting
(00:23) how many books you will win it also represents the essence of cultural preservation which is not just a conversation about the past but one that concerns the future as well three and impossible is predictive and finally through this series I will be chatting with experts in the preservation space and asking three and
(00:44) possibly four questions per interview this is a free-flowing conversation with my community of practice so without further Ado welcome to three in a possible so today I am joined by my friend Dr Joy Canard who's a superintendent at Alabama's tuskegee's Airman National Historic Site Tuskegee Institute National Historic Site and the
(01:08) Selma to Montgomery Montgomery National Historic Trail canard's 20-year plus career reflects an embodied interest in the preservation and advancement of stories perked into African-American history and American heritage she has held multiple leadership roles including her current four-year tenure as the first superintendent of Colonel
(01:30) Charles young Buffalo Soldiers National Monument but she's in Alabama so but she was the founding superintendent of Colonel Charles Young uh she also was a district manager at the national capital Parks East Central District uh where she managed to Mary McLeod Bethune Council house National Historic Site the
(01:50) national archives for black women history and Carter G Woodson's National Historic home among other units an assignment as acting chief of interpretation education and cultural resource manager at the Martin Luther King Jr National Historic Site The Oxen Hill Farm Fort Washington Park and Wolf Trap national park for the
(02:11) Performing Arts she also served as a park ranger at various sites in Virginia in Maryland educating visitors on the stories of prominent figures in American history including George Washington Frederick Douglass and Robert Elite a scholar of African-American history and culture Canard contributed to the
(02:30) seminal African-American national biography encyclopedia and published her first book The Man the movement the museum the Journey of John R Canard as the first African-American director of a Smithsonian institution Museum in tribute to her father in 2017. she has taught African-American history U.S history to 1877 and other courses as
(02:52) an Adjunct professor for seven years with the University of the District of Columbia's Department of history and was a lead curator on Delta Sigma Theta sorority Incorporated celebrating a century of Sisterhood scholarship and service commemorative exhibition Canard holds a bachelor's degree in social work and sociology sociology from
(03:14) Livingstone college and a master of arts degree in history and a PhD in U.S history with a minor in public history and Caribbean studies from Howard University she has also studied race relations abroad in Canada England and France so joy we go back a ways we do beautiful career here and I'm so happy to have you join me for a
JOY:
(03:38) conversation today Monica for having me yes I'm so happy to be here having this conversation with you let's get into it let's get into it let's get into it so join my first question is how what experiences or events led you into the field into the work that you're doing how did you get started you know Monica it's a unique story I
(04:05) have um I grew up in Washington DC as you know uh you're a good friend of mine you know my story uh grew up in Anacostia grew up in the Anacostia Museum that my father started in 1967 grew up around the movement my parents were um uh uh entrenched in the NAACP um in the 60s 70s and 80s uh fighting for uh
(04:39) for um apartheid end of Apartheid um in the 80s and so grew up around that you know grew up around me and my sisters going to John Conyers office With My Father John Lewis's office with my father young you know and so I am feel like leadership has always been a part of the uh makeup of who I am who my
(05:05) sisters are who my parents are uh in their legacy and so it's by no mistake that my father and his brothers were a part of the National Park Service when they were getting integrated in 1962. and so um when I was a freshman in college my uncle told me joy I got a job for you and I was like okay and so we
(05:38) got me in a summer job at the Frederick Douglass home it was the first job I had ever had in my life and they paid me to talk Monica about a man I knew uh a man I lived down the street from his home and used to play on Cedar Hill his property roller skated on Cedar Hill uh absorbed the air conditioning in In the Heat of the DC
(06:12) Summers with my sisters and my Playmates and so too have worked there to have been a stakeholder in the community and worked there it just helped me validate who I was in that community someone who could give value in addition to the fact that I was learning about Federal service and I was doing something that my family was proud of me
(06:42) of because of their connection and so I loved it I fell in love with it um at first I really didn't know the gravity of the position um ahead of what it could evolve into it was just a job but the more and more I came back every season as a seasonal a staff member and when I graduated they gave me a permanent job
(07:10) um it just kind of took off my interest it was seen um as a young professional was something that was validating and affirming and I just learned how I could really give back to these legacies of people who did so much for us and so um reading Douglas's books memorizing most of the passages uh memorizing some
(07:43) of his speeches even today helps to rejuvenate me and so although it was a job it was more like an opportunity for me to be more enriched as a human being and a lot of the experiences that visitors had that were life-changing I even had walking there and so you you maximize that by my other experiences in other national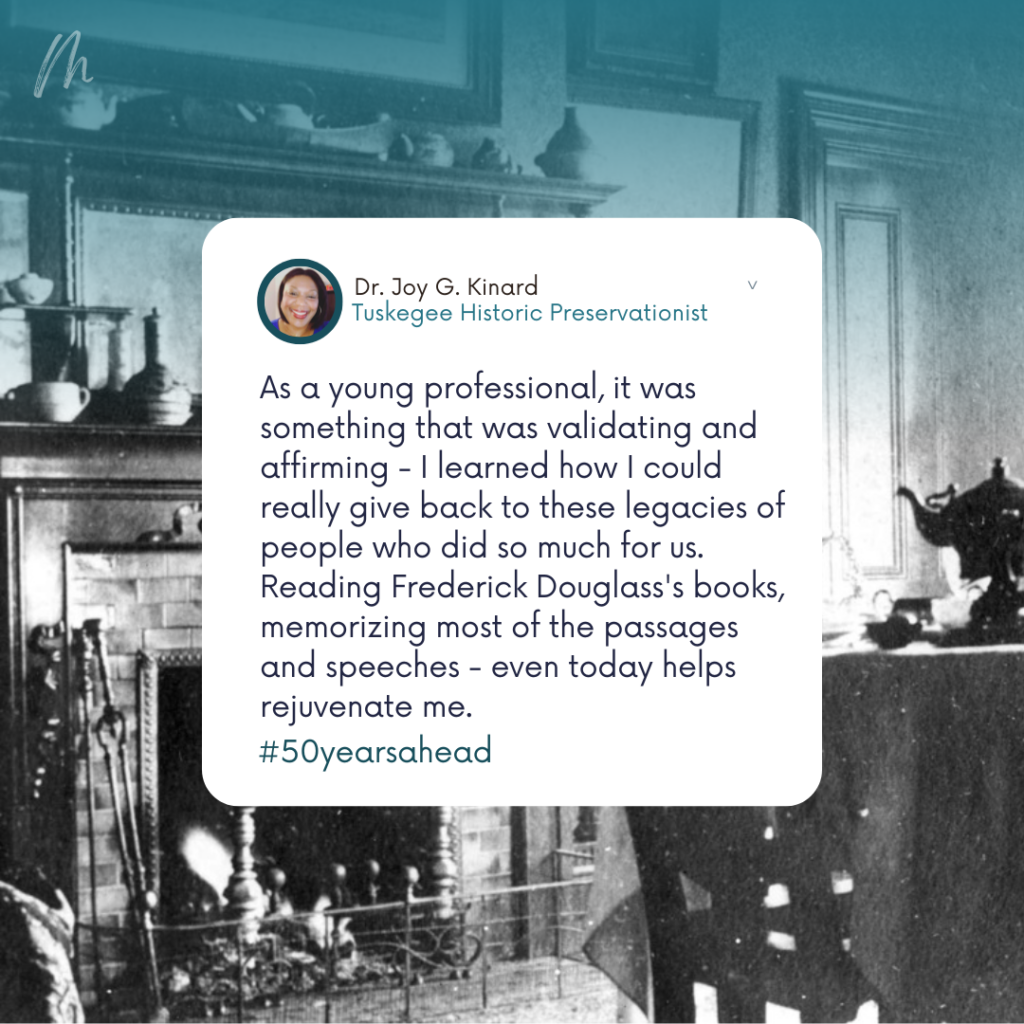 (08:15) parks like the Charles young Buffalo Soldiers National Monument like the Carter G Woodson home like the Mary McLeod Bethune home like Tuskegee Airmen Institute and Selma to Montgomery uh all these places just played a part in me being in a firm human and coping me in my journey as a leader evolving into someone who
(08:47) has done so much uh but using them as a blueprint even my father and a lot of things they went through has been an enormous factor in in shaping me and the decisions I make and the roles I've had so I've done so much and sometimes I can't believe it when you were reading my bike I was like my God I did do that
(09:17) yeah and so uh you know Austin Hill Farm the work I did there there's so many unique stories um about the African-American experience in southern Maryland um for Washington Park uh Wolf Trap uh and the opportunities there for for performances there I led a children's theater in the woods one that I went to
(09:45) as a young girl and it's amazing because uh when I was there I wish that we could have had more children of color um uh you know either from indigenous communities but that just wasn't the case um a lot of the young people who came who were of color uh were few and far between but you know we had Dick
(10:11) Cheney's grandchildren and you know all of these uh young people who did come but it was just our eye opening for me to be in a space where the haves were and then going back to Anacostia where I live where you have nots were in a multitude and just seeing the disparities within the park system which
(10:40) which shows how America is made up and so it's just interesting all around but it helps to broaden my perspective yeah I think that's a that's beautifully said and thank you for just sharing some of your background and journey uh you know where our past intersected uh was in DC at the Carnegie Woodson home and
(11:05) it you know it reminds me of you know a lot of the the work that you continue to do with you know when when we first met we were working on a partnership program and it's that's so important so you know Joy right now you are the superintendent of three Park units uh you know that is no small feat uh in in a they're
(11:26) geographically dispersed and so I admire that but what I also have admired uh in working with you is your your ability to maintain and establish all of these Partnerships so could you say a little bit more uh about your work around um partnership building Coalition building uh in in just any experiences
(11:49) or stories you have to share there I'd love to do that Monica one thing that I will say is that partnership building is internal and external um internal meaning that they're superintendents in the system that we want to help we want to support there are a lot of new parks who don't have things there are a lot of new
(12:16) superintendents that um need support there are a lot of seasoned superintendents who have a lot and want to give back and so there is a partnering within the system and then there's external Partnerships that um is it's just incredible and to see the uh combination of how relationships can grow and lead to
(12:47) physical manifestations of success is just beyond um what I ever thought could happen and some of those things happened uh when I was in Washington DC uh with the National Council of neuro women this awesome organization Mrs Bethune started in 1934 um uh in in through the leadership of Dorothy Height we were able to do so
(13:19) many things at the the council house uh in Washington uh working with the uh Omega Psi Phi Fraternity and Carter G Woodson's home uh going to conferences with them uh helping us fundraise for things we need for his home uh Carter Carter G Woodson also started an organization called The Association for the study of African-American life
(13:50) and history which we still work through here today um but when I was there at the home we did so many things together we celebrated Carter G Woodson's birthday had major events that we worked together on uh going to the hill together working with Eleanor Holmes Norton um just trying to understand how we can
(14:14) um have a mutually beneficial relationship uh working with the omegas again at the colonel young home uh in Wilberforce Ohio they're also worked with Central State University which is an HBCU Wilberforce University which is an HBCU this school that uh Charles young started uh the ROTC program um straight out of West Point
(14:43) that was a bad problem he was incredible and so I can't say enough about him uh I will say though it is amazing how when I was there I was able to read letters between him and Booker T Washington and they had this unique relationship that um I just had never seen Booker T Washington captured in this unique way
(15:12) telling Colonel young some of his innermost thoughts about Blackness and where we could go as a people and to be here in Tuskegee preserving his home working with Tuskegee University um is something I never thought I would do this is the University that my great-grandparents went to Monica now my grandparents my great grandparents
(15:44) they met you and so looking at Booker T Washington with a different lens re-examining his contributions to uh the South um the nation uh globally uh it is it's just unreal and so these Partnerships with the community working with the mayor working with the city council working with the Tuskegee Airmen Inc
(16:18) um who takes care of a lot of the last living Tuskegee Airmen their conference is coming up in all this hopefully I'll be going there and either working with Phi Beta Sigma uh George Washington Carver's historic laboratory is here on campus and part of my portfolio and so he was a proud member of Phi Beta
(16:45) Sigma so was Congressman John Lewis who was a foot soldier in Selma and is revered for his work in voting rights and so having these Partnerships helped to validate the work we're doing and helps to undergird and support the work we're doing through in kind and um fundraising and so I can't begin to
(17:09) tell you about so many Partnerships that um have been cultivated before I got here and since I've been here one that I'm um really trying to cultivate now is with um The Descendant community in Africa town the clotilda I know you've heard of that ship this is the bottom of Mobile Bay there's a documentary on Netflix
(17:37) about um what happened and uh the book that zoria Hurston wrote when she um was working for uh Dr Woodson and so it's just incredible Monica um what we're doing here I know I'm forgetting something but I tell you I have been entrenched in so many things working with the foot soldiers who walk from Selma to
(18:09) Montgomery who are still alive working with Alabama State University we have a center on their campus the Montgomery interpretive Center and um we we're just committed to the work um of the American people but with more focus on civil rights and and and um just trying to get the story right but somehow because sometimes we don't yeah
(18:38) that's that's such an important important Point uh joy and as I'm like hearing you I think I'm hearing you know uh Frederick Douglass and I'm thinking about the National Association of Colored Women right they started in 1896 who helped serve the home of Frederick Douglass I'm here in Bethune I'm thinking about the National Council of
(18:59) negro women um also a member of Delta Sigma Theta you know uh Omega Psi yes and Woodson and you know thinking about Pauline's Dunbar in Ohio and Carver and John Lewis members of Phi Beta Sigma so these are like you know these are 100 plus year old institutions here um that you are helping to Steward their
(19:22) legacy in addition to the agency's work which is a part of Steward and the legacies and these sites I mean those things kind of go hand in hand yes uh so so so just kind of putting these pieces together I'm just kind of seeing these puzzles uh all just kind of fit together nicely in your career in the
(19:41) year um that Colonel young was talking with Booker T Washington find yourself you know not only establishing Colonel Young's uh you know National monument in Ohio but then you know being in Tuskegee right to to be a part of that Legacy and even thinking about you know uh Booker T Washington's third wife who was also a
(20:04) member of the nationalization of colored women who she was so incredible yeah oh my God yeah Margaret Mary absolutely this is so much change agent work in Alabama in Mississippi in Tennessee uh in Florida she did so much here in the South she wanted families to be supported no matter what class uh there's a book about her that recently
(20:41) came out by Sheena Harris who used to work here at Tuskegee and and use the archives here to write her book and to see all of the things she did and she really never she was only known as Booker T Washington uh when he was away she helped to run this school yeah I hope it coexists and she helped raise his children they wanted her kids
(21:12) she didn't uh have them naturally these were children that were birthed from his previous wives who passed away yeah but when you talk about um uh shock absorbers when you talk about people who step in um when you think about people who are doing the work that um behind the scenes to help make a better situation for people she
(21:45) should be thought of Highly um I could go on and on about her the school she helped her husband start the um uh things she wrote you know she went to Fisk with uh WB Du Bois and they were friends and to have her husband be kind of not at odds but publicly um not a difference of opinion um you can't imagine I'm sure what she
(22:18) thought um in having to support certain things that you know she believed in but Majors have a different slightly different views like a lot of people did during that time but they supported both readers and so it's just incredible to um uh to work in a capacity to lift her up to um because Booker T Washington is so
(22:48) well known but he was able to be well known and well thought of because of a lot of people behind him right and this University here Tuskegee was great because of his leadership but because of the team he had assembled like uh um uh Mr uh Taylor um Taylor yes oh my oh my buildings are just today and create a blueprint for
(23:22) how we conceive of innovation um on HBCU campuses the Tuskegee Institute National Historic Site is the only National Park on an active college campus wearing it how the um industry change with Agriculture and industrialization and how they LED this charge in the south which was extraordinary extraordinary
(23:57) that's that's a number two conversations for three in the possible right right would your angle hold you but I have one more question for you and so you're you're doing incredible incredible work down in Alabama and have done that over the course of your career what from your perspective what do you see is the
(24:20) future of this work the you know the future of preservation what well what what should what should we all be thinking about uh you know 20 50 years from now with the work that you're doing what's the future of this field Monica the future of this field is to invest in it learn how to cultivate what we have done
(24:51) in the past and how it needs to be cultivated I know we're looking at how drones can be helpful to Historic preservation we're looking so much digitally and how we can reconstruct things that used to exist uh I think that is is good but we still need to do what we used to do do the oral histories we still need to
(25:16) publish we still need to uh have the readings face-to-face in the community uh we still need to work in The Vineyards of um uh the issues we have in our communities with graveyards and yeah necessaries and you know we well there's more work and some people don't want to do it and I feel you know they want to be at arm's length
(25:50) in the community and that is not how you have success you've got to go to community means you got to get fussed at you've got to try to raise money you've got your head door slamming your face you've got to be around and be there you've got to work with people who need the help there's so many churches
(26:15) when Selma had the devastation on January 12th they still haven't rebuilt now and it's it's it's made um President Biden has been here he has committed funds but you know you you have these people who are in our field who haven't even tried the help work with these people there whose homes were demolished we couldn't go back to
(26:44) their homes historic homes historic churches where uh archives are that have been destroyed you know toppled over these examples of of activism and so we need to really look at climate change in a different way we have to look at storms in a different way and how they can be destructive and learn how we can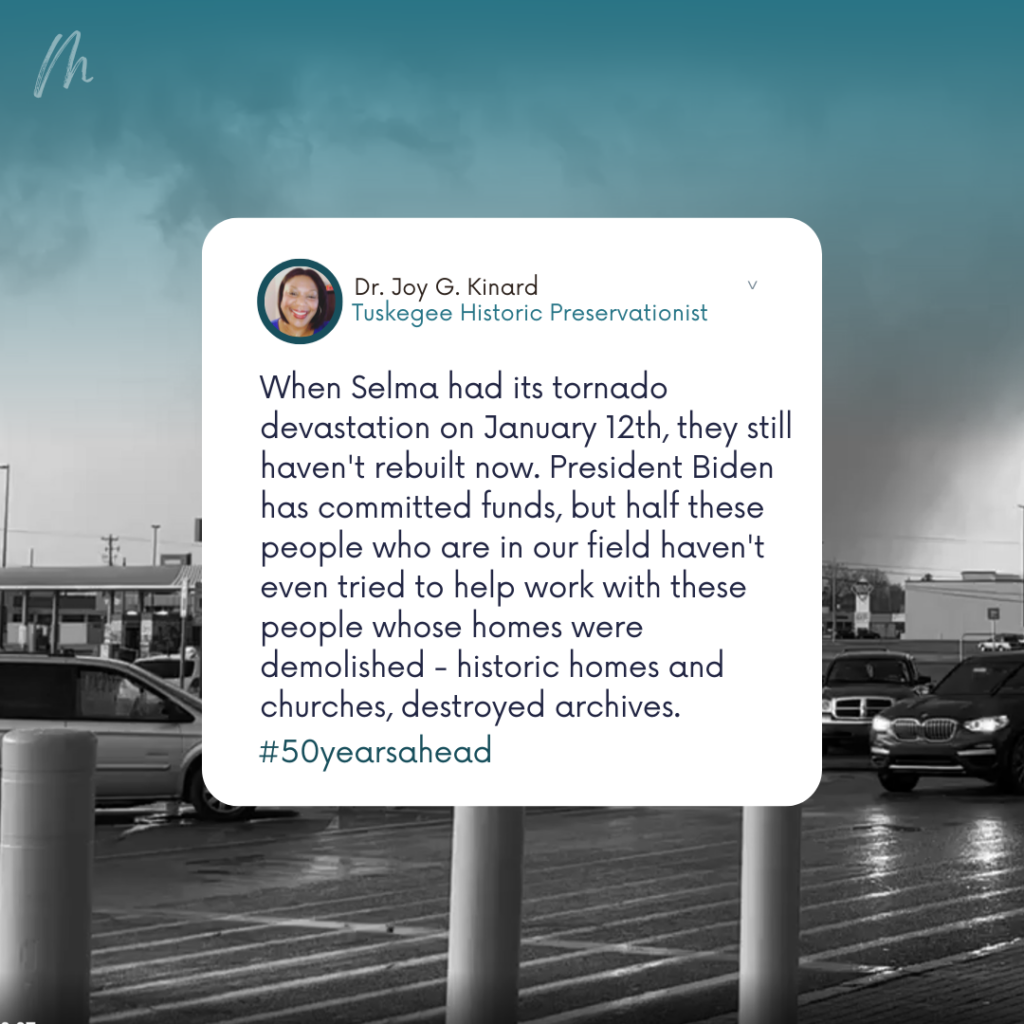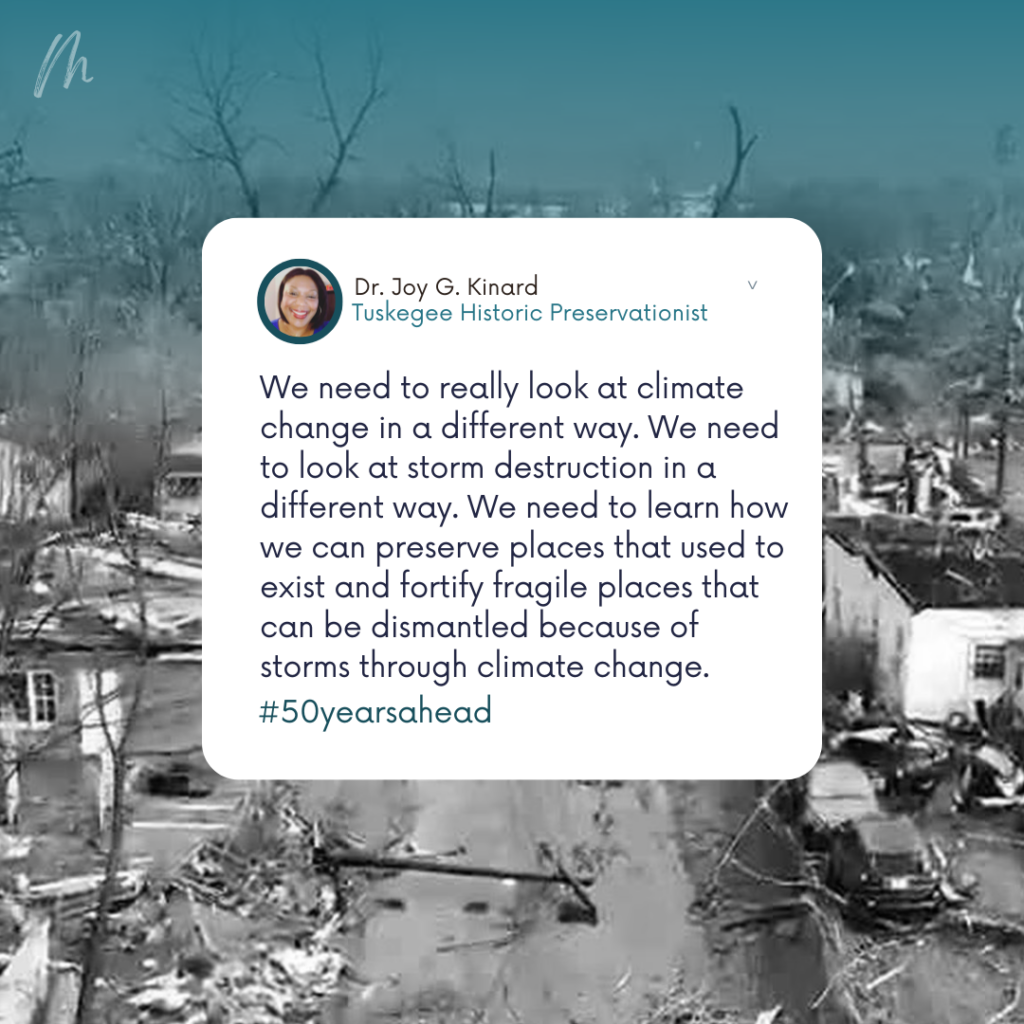 (27:10) preserve places that used to exist because and help fortify places that are fragile because of these areas that uh can be dismantled because of storms through climate changes so um I see that being where the push should be in mind yeah no I completely agree and um you know what you're saying about stewarding the cultural Legacy of these
(27:41) places places you know oftentimes when when people say Innovation you know they think it's like synonymous with like this new technology that's coming out right um but you know thinking deeply and and preservation is a is a road map in some ways to both what we shouldn't do again and you know where we fail short as a
(28:00) nation um but then also where Innovation happened and where we found something that really worked uh and we sh and there's lessons to be learned uh from from that and I'm thinking about uh you know Carver's uh work that he did in Alabama and taking that science into uh in in into the farmer's hands and
(28:21) putting that that information into their hands um you know I'm thinking about the the work of uh uh uh Benjamin uh Davis who who was there you know I can just just thinking about these examples of we the wheel doesn't need to be recreated every generation if you can do the work and learn from our past
(28:42) elevation and I think we're so busy sometimes in a classroom learning about it we have to be around it for these practical Hands-On skill lessons but sometimes people don't really understand that it's more to it having book knowledge you really gotta be strong in this field this field is not for the week at heart
(29:17) well we'll say and you know we can keep we can talk for days on that but we won't because Joy it's been about a half an hour we've been talking stop I'm just getting started up girl I know I know and I also know that you have three national parks that you're running and so you are a very busy woman they calling me nail monitors I know but
(29:43) so Joy thank you thank you for your time today it's always a pleasure to see you and talk with you thank you uh and if people want to connect with you on on Facebook LinkedIn how do they get in touch with you Jordan they can contact me on Facebook they can contact me here at the the park um they can email me here at the park as
(30:07) well joy underscore Canard at mps.gov they can call me here too I am available all right you know I'm a public servant Monica okay you're right yeah right in my capacity I am available yeah okay run workouts oh all right well joy thank you again I look forward to seeing you when I'm back I'm coming down to Alabama
(30:38) it's so good to see you good to see you too okay well thank you again joy and we will catch up soon all right thank you for joining in for the conversation today