BIG NEWS: I shared this announcement earlier today on my live stream (if you missed it) and I'm elated to share it with you here now: ICOMOS-USA and its supporting organization World Heritage USA have officially elected me to serve as a member of the International Council on Monuments and Sites | International Council on Monuments and Sites (ICOMOS) (ICOMOS) Board of Directors from 2023-2026. As the managing body of ICOMOS, the Board is responsible for preparing the ICOMOS program and budget and monitoring their implementation, as well as registering National and International Committees.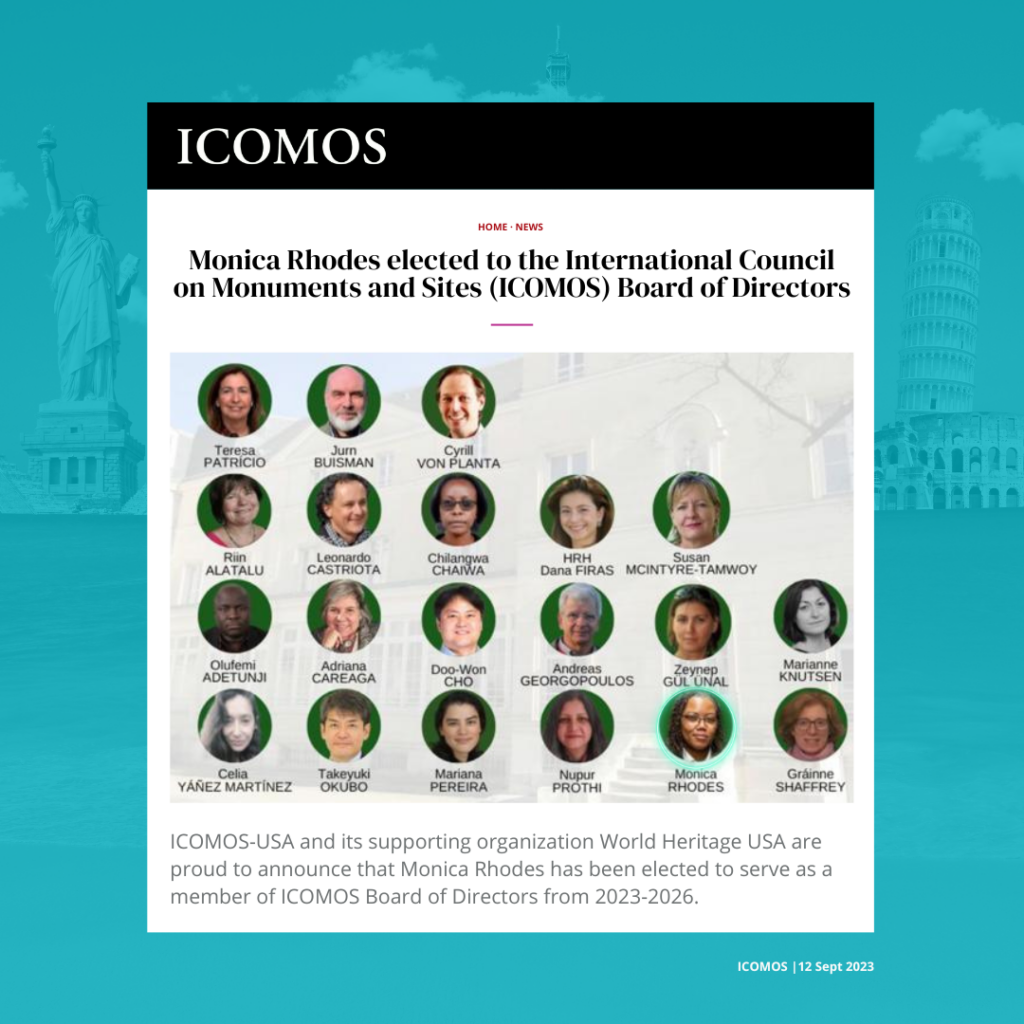 Throughout my career, I have harnessed the power of social media as a means to engage volunteers, communicate with various stakeholders, and disseminate ideas about the vital role of cultural heritage in our daily lives. As a Board member, I eagerly anticipate the opportunity to work closely with the organization to expand the Emerging Professionals Working Group and continue my contributions to the Sustainable Development Working Group. I am committed to utilizing my skills and experiences to further the mission of ICOMOS and advocate for the importance of cultural heritage preservation and promotion at local, national, and international levels.
I'm enthusiastic about the opportunity to serve on the Board of ICOMOS and contribute my expertise towards advancing the organization's goals. With my extensive experience in the field of cultural heritage and my dedication to promoting community engagement and sustainable development, I am committed to actively participating in Board meetings, collaborating with fellow members, and working towards the growth and success of ICOMOS. I am honored to be part of this esteemed organization and look forward to making meaningful contributions as a Board member.
Looking forward to advancing programs that matter to heritage professionals and supporters around the world and to further the mission of ICOMOS.
Watch the full announcement here:
ABOUT ME:
Monica Rhodes has been an ICOMOS-USA trustee since 2021 and is an international award-winning cultural preservationist who has established programs to advance socially and economically inclusive heritage practices in the United States. Currently, Rhodes is a Rome Prize Fellow in Historic Preservation and Conservation at the American Academy in Rome and serves on the presidentially-appointed Advisory Council on Historic Preservation. | themonicarhodes.com | #50yearsahead