The American Academy in Rome has awarded alumna Monica Rhodes the Adele Chatfield-Taylor Rome Prize in historic preservation and conservation for 2022–2023.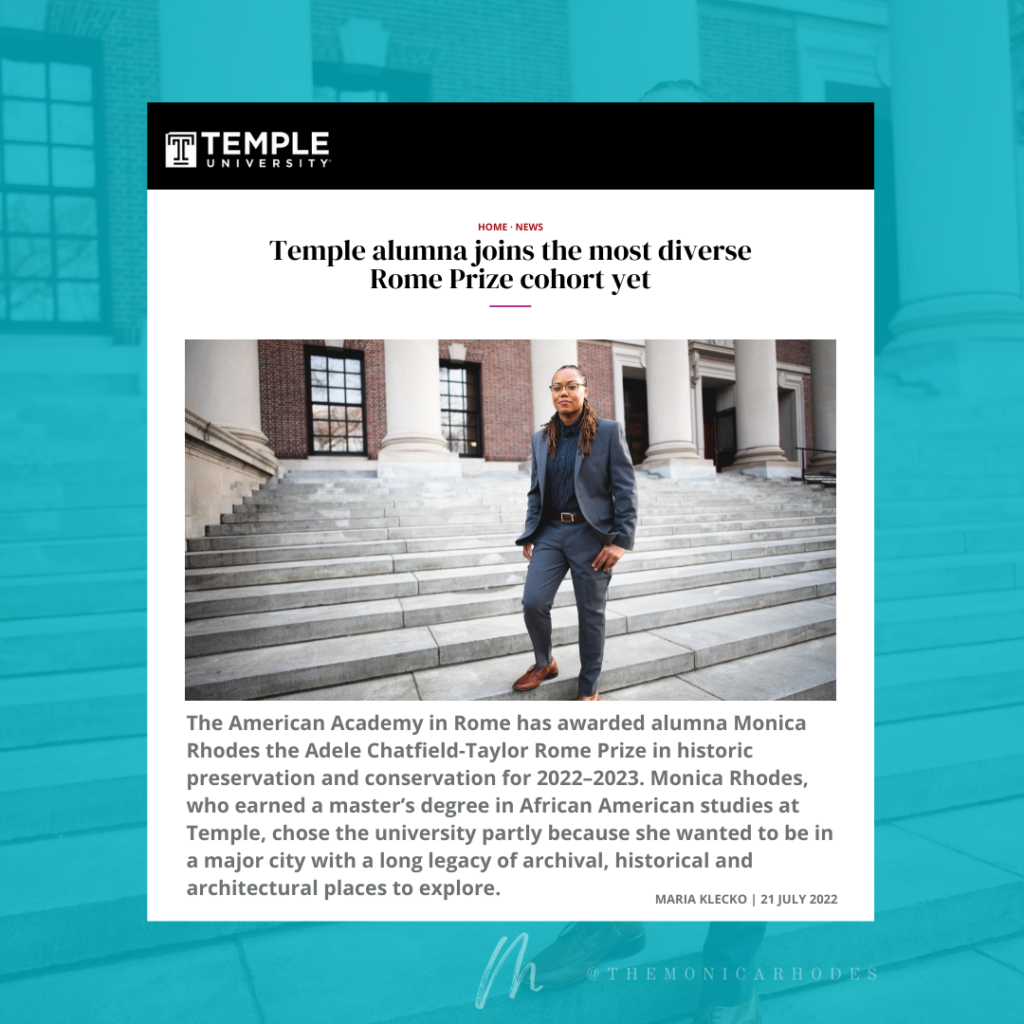 When Monica Rhodes, CLA '08, came to Temple, she was on track to become an African American studies professor. But her trajectory changed during a pivotal internship the summer after she completed her master's degree at the university.
Trained as a historian, she interned for the Pennsylvania Historical and Museum Commission to identify and help preserve African American sites around the state excluding Philadelphia and Pittsburgh. The project was supported by Preserve America—a federal program that supports the preservation of local communities—in partnership with the commonwealth of Pennsylvania and the African American Museum in Philadelphia. By the end of the summer internship, Rhodes became more interested in the preservation side of the project.
"It was a transformative experience that allowed me to see the built environment in a new way and develop a different lens that was a departure from my training as a historian," she said. "I went on to develop a skill set that allowed me to not only understand the historical and cultural context of a city but also to activate and apply scholarship and lessons learned in the preservation of these spaces."
With 15 years of experience protecting the nation's history—including directing preservation activities in 46 states and completing projects in more than 100 national parks—Rhodes has been awarded the Adele Chatfield-Taylor Rome Prize in historic preservation and conservation for 2022–2023.
Every year, the American Academy in Rome—the United States' oldest international center for independent studies and advanced research in the arts and humanities—bestows the Rome Prize on roughly 30 artists and scholars who are in the early or middle stages of their careers and embody the highest standard of excellence. This year's cohort is among the most diverse and competitive in the academy's history.
"I had a chance to meet Adele Chatfield-Taylor, so to be walking in her shoes and receive an award named after such a phenomenal internationally acclaimed preservationist is amazing," said Rhodes, a sixth-generation Texan who has always been interested in the historical identity of the United States.
Rhodes' career has been prolific. Her accomplishments include building out the nation's first and largest effort to diversify the preservation trade; helping establish two national parks in Virginia and New Jersey; connecting students to road and architecture programs at historically Black colleges and universities; and reestablishing the country's longest-running programs to preserve and amplify national parks that tell stories about the history of women, African Americans and the Latinx community. Rhodes was even part of the national effort to pass the Great American Outdoors Act.
Her Temple education has helped inform her work. "My time at Temple was a testament to the importance of reaching beyond academia and partnering with communities to co-create and execute projects," said Rhodes. "The lessons I learned have allowed me to creatively approach my work in a way that centers and celebrates cultural differences."
As one of few academically trained African American preservationists, Rhodes is committed to involving all groups in the creation of a more inclusive national story, especially diverse, underrepresented groups, and pushing this culturally relevant lens forward within the preservation industry.
For example, when working on the Bandelier National Monument that has Tyuonyi Pueblo dwellings, Rhodes' project team partnered with an all-Native American crew, who learned how to preserve a place to which they are culturally and historically connected. At the conclusion of the project, the crew members expressed a deeper connection to a place that they had only visited as tourists.
"You understand the material differently when you're able to access the place," said Rhodes. "It's a visceral, immersive experience that can't be replicated in any other way. It's important to be more intentional by ensuring everyone can access these spaces. We also want to be certain we're telling inclusive stories once they're in them and preserving places that represent the diversity of who we are. There's history we need to uncover that's underexamined and underpreserved, and my work with communities at a variety of levels seeks to accomplish that goal."
"Preservation is for everyone because everyone has a story."

– Monica Rhodes
After recently completing the Loeb Fellowship at Harvard, Rhodes will spend her time at the American Academy in Rome thinking deeply about how to engage more communities in the work of preservation.
"Temple was part of my journey in underscoring what I thought I knew coming in and gaining practical skills for a methodical approach in which the process and community feel part of the conversation, which is equally as important as the outcome," she said. "Preservation is for everyone because everyone has a story."
Follow Rhodes on Instagram @themonicarhodes to see her Rome journey.
AUTHOR: Maria Klecko, Temple University News Writer
Link to original article